I'm guilty of a major fail.
A couple of girlfriends and I took our monkeys boys to the zoo this weekend and I didn't bring my camera.
Maybe you're thinking I'm bummed I didn't get pictures of Blake chillin' with his dude pals, but I did.
See?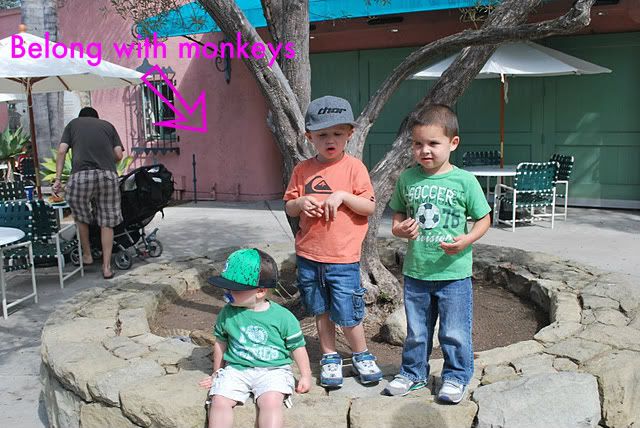 Or perhaps you're thinking I was wishing I'd snapped a photo of him riding a piece of cardboard down the "ant hill", but I got one.
Or what about a picture of me taking the littlest of the Three Musketeers down the "ant hill"? Nope, I got that too.
Clearly, he LOVED IT.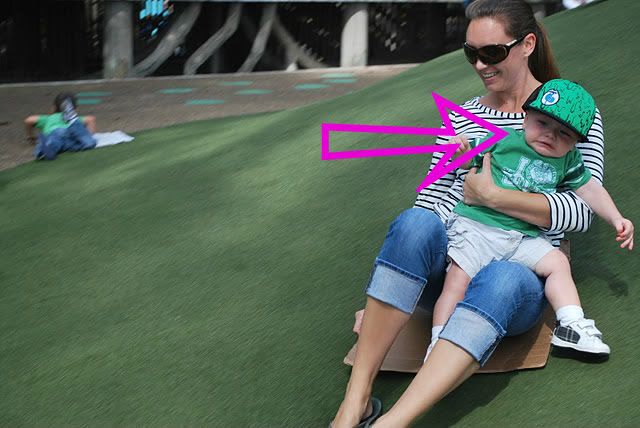 Here's the thing: The general public is sofa king stupid.
If you've never been to the Santa Barbara Zoo, let me fill you in on a little secret.
The zoo is literally ON THE BEACH.
OK, so it's across the street, but still. The giraffes sleep about 50 yards from the sand. The lions practically have ocean front property. The views are breathtaking. When you go to the Santa Barbara Zoo, you're pretty much going to the beach and yesterday? Was a perfect day at the beach.
Always take a camera to the Santa Barbara Zoo.
Why?
So you can take pictures of the morons wearing UGGs. Because nothing screams "Beach weather!" like booty shorts and BIG FURRY BOOTS.
And nothing screams "Maybe we should leave Carri at home!" like me begging to use a friend's camera so I can document said morons wearing UGGs.
But since I love you guys so much, I did manage to snap this picture: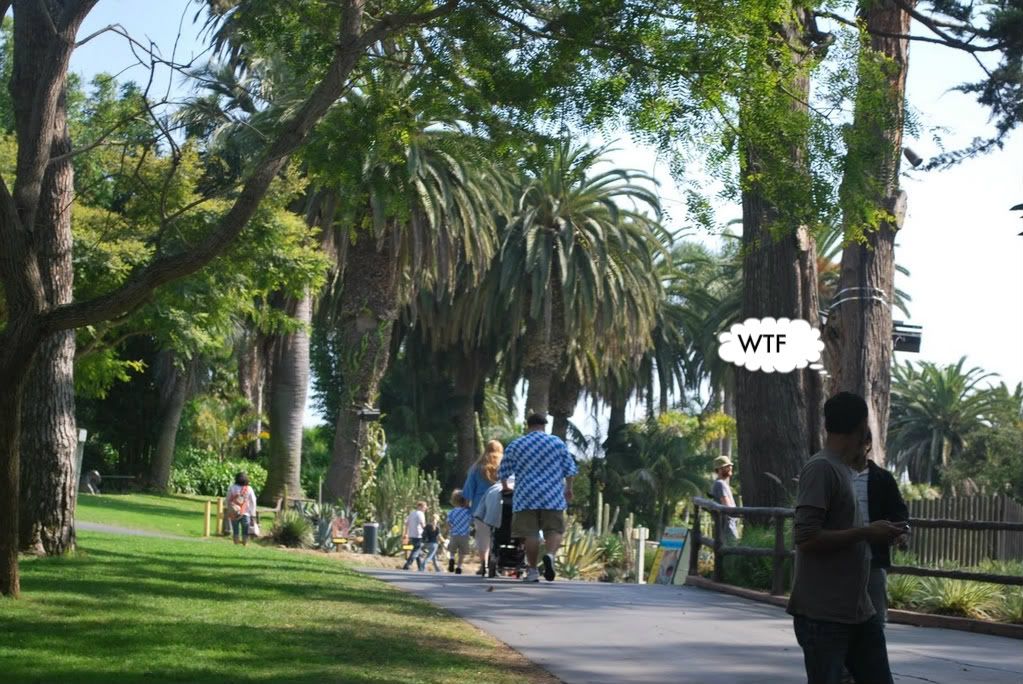 Do you see it? (Dude in the gray shirt saw it.)
How about now?
I'll be honest: I was so offended and confused by an entire family wearing the same exact tablecloth-esque shirt that it didn't even dawn on me to take a picture until they were practically a half mile away.
What you can't see in the picture is TWO MORE little boys wearing that vomit inducing get up.
I'm sorry, you guys.
From this day forward, I will always have a camera locked and loaded while visiting the Santa Barbara Zoo.