I know I usually do Throat Punch on Thursday, but let's just say I'm So Happy It's Thursday tomorrow.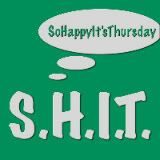 I started potty training Blake on Monday and I thought the 3 Day Potty Training Method would be a great idea (because I am an idiotic sadomasochist).
I could write on and on about how the 3 Day Potty Training Method requires you to chain your child to your leg and lock yourself up in the house for three.whole.days.
I could also write about how I was seriously considering lighting myself on fire and driving off a cliff so I wouldn't have to spend another second cooped up in the house.
But I won't.
I will spare you the details and fast forward to today, which should have been our third and final day of being locked up in the house. But it was not our third and final day of being locked up in the house. Instead, today was the second consecutive day of us heading over to my dad's house to hang out.
Blake picked up on peeing in the potty right away, but pooping? Not so much. He has a definite "schedule", so I wasn't anticipating any poop action for another two hours when he sneaked around the corner and behind the deck.
He had JUST gone pee. He didn't have a drop left in him. He likes to play trucks behind the deck. No biggie.
((ahem))
He was back there for two minutes tops when he ran back around the corner and announced, "MOMMY! Come look at my poop!!"
Uh… excuse me?!
"My poop, Mommy!! LOOK!!"
Surely, he spotted some dog poop and his thoughts were lost in translation.
His pants were clean.
He didn't poop himself.
So, I followed him around the corner, where he excitedly pointed out his prize.
"It's my POOP, Mommy!"
OMFG. My child pulled down his pants and dropped a giant deuce in the backyard.
Of course I immediately took him in the bathroom to clean his butt.
And after that, I immediately sent out a tweet. Of course.
"Blake just dropped a deuce in the yard because, you know. That's what the dog does. FML."
Yes, I tweeted the news to all of you guys before texting my husband:
"Guess who just took a crap right in the yard and said, Mommy look at my poop!"
I waited for a response.
One minute. Two minutes. Three. Four. Five.
Then I texted:
"I REPEAT: He took a shit in the middle of the yard then showed it to me. On the ground."
Nothing.
"IT WAS ON THE GROUND."
Then I thought, Eh, screw it. I'm going to just call him.
He was obviously trying to take a nap when I called.
Me: Did you get my texts?!?!?!
Ken: Um… no. I'm trying to sleep.
Me: OUR CHILD TOOK A GIANT CRAP IN THE BACKYARD.
Ken: He pooped his pants again?
Me: NO. He pulled down his pants AND TOOK A DUMP. On the ground.
Ken: Uh.. wait… what?
Me: He pulled down his pants AND TOOK A SHIT. In the backyard.
Ken: …
Me: On the groud, Ken. ON.THE.GROUND.
Ken: Bahahahahahahahahahahahahahahahahahahahahahahahahahaha!
Me: Oh, sure. You think that's so funny, don't you? Real nice.
Ken then assured me that taking a random dump in the backyard is indeed funny enough to blog about. You can all thank him later.
Or not.